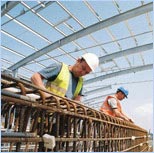 Overview
Construction industry accounts for around one-tenth of the world's gross domestic product, seven percent of employment, half of all resource usage and up to 40 percent of energy consumption. This industry has a real impact on our daily lives: the buildings we live and work in, the roads and bridges we drive on, the utility distributions systems we use, the railways, airports and harbors we travel and trade from are all products of this billion dollar industry.
The construction industry consists of infrastructure, repair and maintenance;public and private housing;non-residential public property (e.g. hospitals and schools) and industrial (e.g. factories and processing plant) & commercial construction. Prosperity of the industry depends upon the capacity to evolve on business, technological and environmental fronts.
This vast and diverse sector provides construction industry jobs in both well-known fields and niche areas of construction. Different areas for construction industry jobs includes architecture, civil and structural engineering, construction and building services, engineering construction and surveying.
Construction Industry Recruitment
We have a dynamic team of professional consultants with a vast experience of construction industry recruitment. They utilize their expertise to provide best solutions for construction industry jobs, whether it be for a permanent or freelance position. A structured interview for construction industry recruitment with thorough screening guarantees candidate with immense potential to drive business growth.
We believe in understanding our customers' staffing requirements and customizing our service to suit their needs for providing jobs in construction industry. This enables us to pin-point deserving candidate for the jobs in construction industry. Further, our rich database of candidates and innovative consultative recruitment techniques, effectively reduces the critical time for search.
Some of the job portfolio for which we have successfully placed best talents include the following:
General Construction Workers
Blue-Collar Workers Supervisor
Carpenters
Cement Masons
Civil Engineers
Construction Helpers
Construction Managers
Construction Inspectors
Construction and Well Drillers

Cost Estimators
Heavy Truck Drivers
Line Installers and Repairers
Material Moving Machine Operators
Mechanic and Repairer Helpers
Operating Engineers
Plumbers and Pipe fitters
Structural Metal Workers